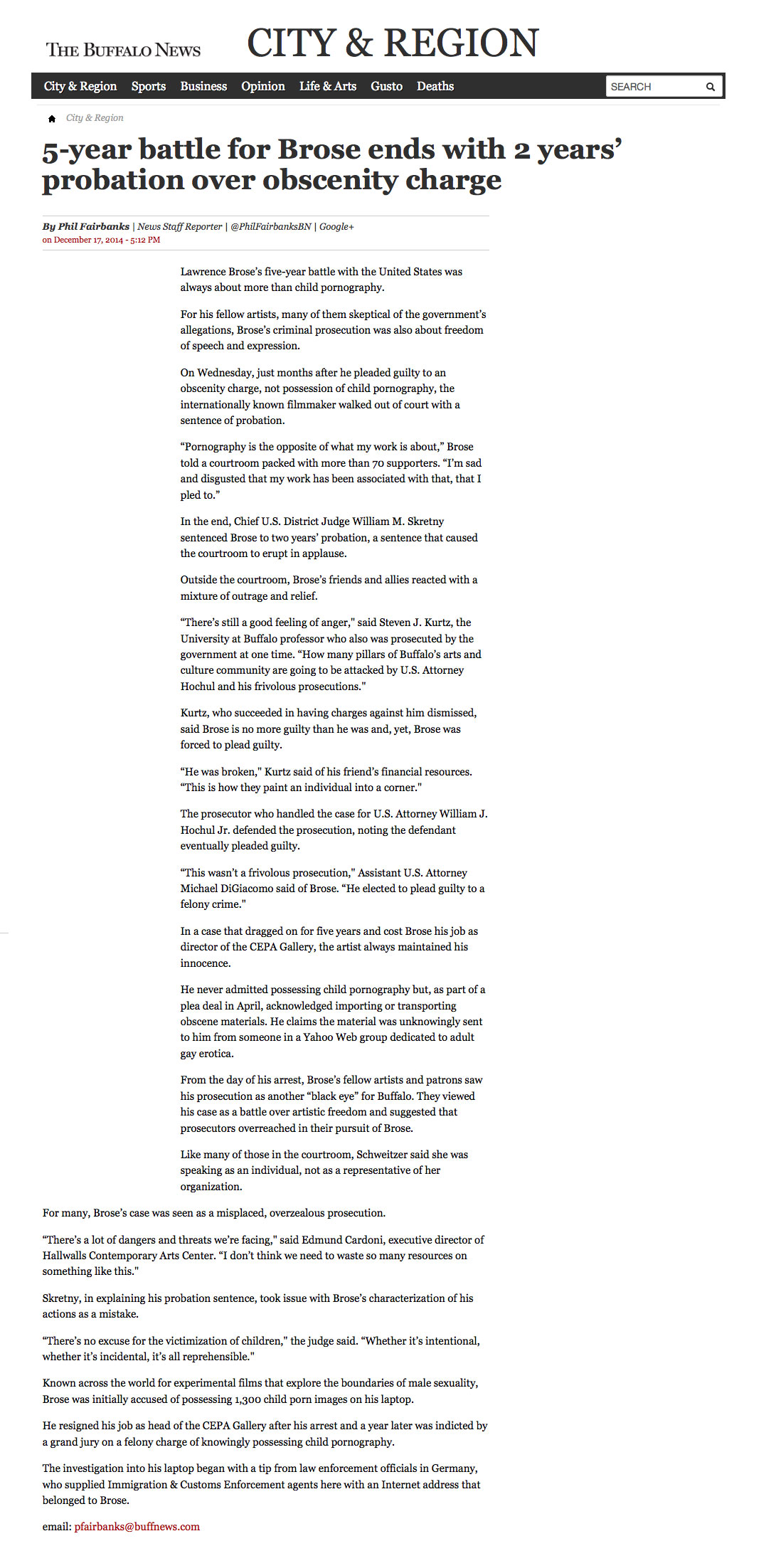 5-year battle for Brose ends with 2 years' probation over obscenity charge
By Phil Fairbanks | News Staff Reporter | @PhilFairbanksBN | Google+
on December 17, 2014 - 5:12 PM
Lawrence Brose's five-year battle with the United States was always about more than child pornography.
For his fellow artists, many of them skeptical of the government's allegations, Brose's criminal prosecution was also about freedom of speech and expression.
On Wednesday, just months after he pleaded guilty to an obscenity charge, not possession of child pornography, the internationally known filmmaker walked out of court with a sentence of probation.
"Pornography is the opposite of what my work is about," Brose told a courtroom packed with more than 70 supporters. "I'm sad and disgusted that my work has been associated with that, that I pled to."
In the end, Chief U.S. District Judge William M. Skretny sentenced Brose to two years' probation, a sentence that caused the courtroom to erupt in applause.
Outside the courtroom, Brose's friends and allies reacted with a mixture of outrage and relief.
"There's still a good feeling of anger," said Steven J. Kurtz, the University at Buffalo professor who also was prosecuted by the government at one time. "How many pillars of Buffalo's arts and culture community are going to be attacked by U.S. Attorney Hochul and his frivolous prosecutions."
Kurtz, who succeeded in having charges against him dismissed, said Brose is no more guilty than he was and, yet, Brose was forced to plead guilty.
"He was broken," Kurtz said of his friend's financial resources. "This is how they paint an individual into a corner."
The prosecutor who handled the case for U.S. Attorney William J. Hochul Jr. defended the prosecution, noting the defendant eventually pleaded guilty.
"This wasn't a frivolous prosecution," Assistant U.S. Attorney Michael DiGiacomo said of Brose. "He elected to plead guilty to a felony crime."
In a case that dragged on for five years and cost Brose his job as director of the CEPA Gallery, the artist always maintained his innocence.
He never admitted possessing child pornography but, as part of a plea deal in April, acknowledged importing or transporting obscene materials. He claims the material was unknowingly sent to him from someone in a Yahoo Web group dedicated to adult gay erotica.
From the day of his arrest, Brose's fellow artists and patrons saw his prosecution as another "black eye" for Buffalo. They viewed his case as a battle over artistic freedom and suggested that prosecutors overreached in their pursuit of Brose.
Like many of those in the courtroom, Schweitzer said she was speaking as an individual, not as a representative of her organization.
For many, Brose's case was seen as a misplaced, overzealous prosecution.
"There's a lot of dangers and threats we're facing," said Edmund Cardoni, executive director of Hallwalls Contemporary Arts Center. "I don't think we need to waste so many resources on something like this."
Skretny, in explaining his probation sentence, took issue with Brose's characterization of his actions as a mistake.
"There's no excuse for the victimization of children," the judge said. "Whether it's intentional, whether it's incidental, it's all reprehensible."
Known across the world for experimental films that explore the boundaries of male sexuality, Brose was initially accused of possessing 1,300 child porn images on his laptop.
He resigned his job as head of the CEPA Gallery after his arrest and a year later was indicted by a grand jury on a felony charge of knowingly possessing child pornography.
The investigation into his laptop began with a tip from law enforcement officials in Germany, who supplied Immigration & Customs Enforcement agents here with an Internet address that belonged to Brose.